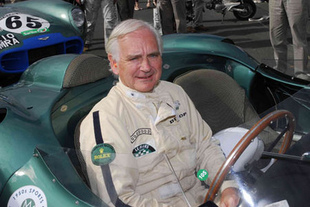 Multi-Millionaire Adrian Beecroft in one of his fancy cars
(copyright Gilles Bonnafous)



ANOTHER rude awakening today as the minute I switch on the TV I learn that a wealthy Tory donor is advising the cabinet to
scrap virtually all employment protection in the UK
as we know it.
I consider today's move to be nothing more than a Bully's Charter – allowing all employers and bosses to treat people as badly as they like with impunity. If implemented, it would likely result in mass social upheaval like nothing we have seen in the UK.
Then again, considering he has given the
Tories some £500,000 in donation
s, they will not be questioning his academic methodology in the hope he shovels more cash to Conservative Central Office. His donations in relation to his political influence make a mockery of
Tory claims
that they are somehow more democratically funded than Labour are by trade unions.
Anyone who has
lost their job, pension or livelihood
as a result of venture capitalists will probably be unsurprised at Beecroft's analysis that all workers' rights are bad. Venture Capitalism is often about finding ways to squeeze even more profit from already profitable organisations – mainly by looking at "major cost centres" such as employees' wages.
A super-rich Aston Martin racing venture capitalist with a background in science is not the sort of person I consider qualified in any way to advise ANYONE on the laws regulating the world of work, let alone the government!
That said, if our maniacal government (or a future even more extreme majority Tory administration) were to enact his proposals it would irreversibly entrench and widen the divisions between rich and poor, make the world of work even more deeply unpleasant than it already is for the majority of people and also make even more innocent people suffer from debilitating insecurity and powerlessness.
But I doubt that a multi-millionaire racing his fancy cars could ever understand that. That's why Adrian Beecroft, and all he stands for, is the next Enemy of the Blog.